JACK GAGLIARDI, Homeopath, Hom, DSHomMed, RCSHom,
Registered Homeopath with
College of Homeopaths of Ontario (Registration #15043)
(416) 832-3448
jack@homeopathyheals.com
Biography
Why I chose homeopathic medicine?
---
APPOINTMENTS
Contact Information
Your First Appointment
Testimonials
---
WHAT IS HOMEOPATHY?
Introduction
Homeopathic Medical Philosophy
What is a homeopath?
Health conditions homeopaths treat
---
Live Blood Cell Analysis
Live Blood Cell Analysis - Using Darkfield Microscopy
---
What is Live Blood Analysis and Darkfield Microscopy?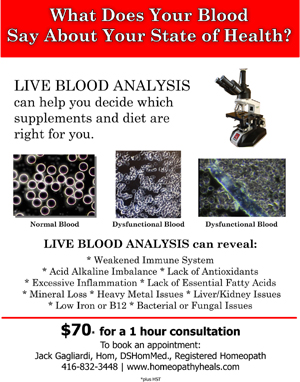 Live Blood Analysis using Darkfield Microscopy is a very effective method used to examine living blood cells with a specially adapted, high-power microscope. Two drops of living blood are taken from the client's finger by way of a tiny pinprick. The fresh drop of blood is then viewed under the microscope which projects a vivid image onto a video screen, allowing the practitioner and patient to easily see the health state of blood cells, as well as the presence or absence of harmful bacteria and other microorganisms. Observations of live blood using this method may also reveal vitamin and mineral deficiencies, toxicity, excessive fat circulation, liver weakness, arteriosclerosis and causes for allergies.
Because the precursors to serious health imbalances may be observed in the state of ever-present floras found in the blood, health imbalances may be averted by reading these early warning signs and making the necessary changes that will allow one to rebalance the physiology. These markers are also applicable in the course of tracking the progression and reversal of degenerative conditions that may already be in motion.
To book an appointment for Live Blood Analysis, please call 416-832-3448 or email jack@homeopathyheals.com. The appointment will be 1 hour long and will include a Nutritional Consultation.